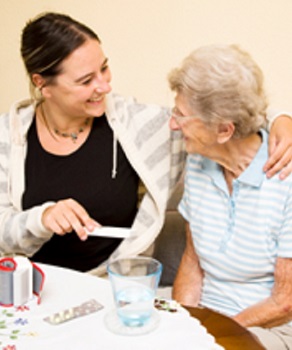 Healthcare, Level 2
New Zealand Certificate in Health and Wellbeing Level 2 (40 Credits)
Introduction
"Hi I'm Vanessa, I'm your tutor and I have over 20 years of experience in the healthcare industry. My aim is to give you the tools you need to help support and care for people who can't care for themselves. If you're passionate about helping others, the healthcare community needs you!"
Programme Aim
This programme has been designed and developed to provide you with an entry level qualification and an introduction to the knowledge and skills you will need to become a support worker in the health, disability and aged support sector.
Our programme is a great start if you want to continue on and study certificate, diploma and degree qualifications in health, aged support, disability or nursing. Or, you can start employment straight away!
As work placement is a part of this programme, your exposure to the industry is greatly enhanced, increasing employment opportunities.
Programme Details
We run our classes Monday to Friday, 9am – 3pm. Our campus at 144-152 Ingestre Street is an easy walk from the bus or there's parking available. Our programme runs for 13 weeks.
Intake 2
Programme Starts - 24 July 2017
Programme Ends - 26 October 2017
Intake 3
Programme Starts - 13 November 2017
Programme Ends - 2 March 2018
What does it cost and who can attend?
To attend this fees free course you must be:
Referred to the programme by Work and Income
Or,

a New Zealand Citizen, or a New Zealand permanent resident currently living in New Zealand
a Cook Island, Nuie or Tokalau citizen,
an Austrailian citizen who is currently living in New Zealand, or an Australian permanent resident who has a returning resident visa and is currently living in New Zealand
or a refugee with refugee status who is directed to study as part of residency requirements
You will also need to provide a birth certificate or passport as evidence of identity
AND not have an existing Level 2 qualification listed of the National Qualification Framewrok (NQF)
Work Restrictions for Children's Workforce
Under the new Vulnerable Children's Act 2014 if you have a criminal conviction you will need to check if your conviction could prevent you from working in this industry. Visit http://www.legislation.govt.nz/act/public/2014/0040/latest/whole.html#DLM5501909 for more information and a list of specified offences.
What qualifications are offered on the programme?
You have the opportunity of completing the following qualification through this programme:
New Zealand Certificate in Health & Wellbeing, Level 2
This healthcare qualification will give you a great base to start your career or the skills and knowledge you need to continue study.
What will I learn about?
Over 13 weeks the following topics will be covered:
Service plan requirements and Infection control
Understand risks, impacts and actions for falls
Minimise the risks of falls
Continence and incontinence
Interventions
Progress reporting
The role of a support worker
Consumers rights
We will also give you some insight into how you learn best. Everyone has their own learning style. If you understand your learning style, you can apply this to all that you do to achieve success!
Graduate description
On successful completion of all programme requirements, you will achieve the New Zealand Certificate in Health & Wellbeing, Level 2
You will be able to demonstrate knowledge relating to:
Service plan requirements to meet the needs of consumers
Infection control requirements in a health or disability setting
Immediate response to the death of a person in a home, the community or residential setting
Understand risks, impacts and actions for falls and the ability to minimise the risks of falls in an aged care, disability or health context
Describe continence, incontinence interventions and reporting processes in a given context
Understand the role of a support worker and consumer rights in a health or disability setting
If you are looking at gaining employment after this programme you are likely to find vacancies in rest homes, home based care or in social service agencies.
How we will help with your next steps?
As your tutor and an industry expert, I know what options are available and can help you complete study applications or recommend what courses would be best suited to your career goals.
We will also teach you how to:
Read job advertisements to determine role requirements
Create a covering letter
Create a targeted résumé
Undertake job searching using Seek and Trade Me Jobs
Interview with a potential employer
Want more information?
If you need some more information, just call us! We are really happy to talk with you about your study options. If our course is not right for you, we will point you in the direction that can help you achieve your goals.
How do I get started?
Call us to book time to speak with me on 0800 438 848 or 06 349 0047.
I look forward to meeting you!
Vanessa
Training For You
144-152 Ingestre Street, Whanganui
Free Phone 0800 GET T4U
Local Phone 06 349 0047
Email us info@trainingforyou.co.nz
Private message www.Facebook.com/TrainingForYou