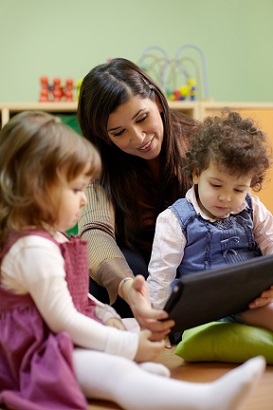 New Zealand Certificate in Early Childhood Education and Care, Level 3
Training For You is excited to announce a new development in their Early Childhood programme!
Training For You are currently developing the new New Zealand Early Childhood Education qualification, to be delivered on the new online learning platform, iQualify.
We are expecting to launch the new qualification in June 2017, and will start taking enrolments for the programme at that time.
This programme is being designed for everyone who wants to up-skill and do the best they can for the children they work with. Gaining a recognised qualification is really important to the majority of our students. Growing in confidence and having a sense of accomplishment, in knowing they can study and be successful, is something a lot of our students talk about.
We have a wide range of people completing our programmes from all sorts of backgrounds. If you are concerned about whether the level of study is right for you, please give our tutors a call or send them an email.
Entry Criteria for the new qualification (June 2017 enrolments):
You must:
Be over 16 years of age and not be enrolled at a secondary school or other tertiary organisation
Be identified as a domestic student (one of the following):

a New Zealand Citizen, or a New Zealand permanent resident currently living in New Zealand
a Cook Island, Niue or Tokelau citizen
an Australian citizen who is currently living in New Zealand, or an Australian permanent resident who has a returning resident visa and is currently living in New Zealand
a refugee with refugee status who is directed to study as part of residency requirements.

Provide a birth certificate or passport as evidence of identity
Students are required to attest or provide written evidence that they have access to:

sufficient opportunities to work with children in an early childhood educational setting in order to meet the practical requirements of the programme.
a qualified teacher to supervise practicum work
regular access to a computer with a broadband connection to enable access to reliable internet, be able to send and retrieve emails with attachments

Applicants must receive a satisfactory police check to be accepted on to the programme. All applicants will be provisionally enrolled until this is received, at which time Training For You will determine if a student is eligible to be fully enrolled. This provision is in accordance with the 'Vulnerable Children's Act, 2014'.
Once you are enrolled, our tutor will be in contact with you throughout the programme. They will support you with your learning and mark your assignments.
You will get to know our tutor very well throughout the course. If you get stuck they are just a phone call or email away. Their role is to support, guide and nurture you to your full potential.
All the information you need will be within the material. There are no extra readings that you need to do, or text books you need to buy.
As all the work is available to you as soon as you enrol, if you want to move through the certificate and complete it faster than the recommended timeframe, you certainly can. We advise that you start slowly and then you'll be able to judge what you can achieve within the timeframes and what is manageable with your other work, family and community commitments.
Fees
To be confirmed
Contact Us
The New Zealand Certificate in Early Childhood Education and Care, Level 3 is under development and will be launched in June 2017.
If you have any questions please call 0800 438 848.