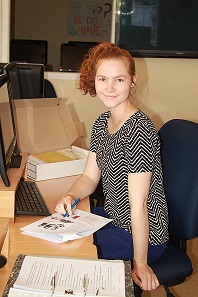 Career Start: Administration & Technology
Providing entry-level skills and knowledge in the use of office technology inclduing modern communication media, keyboard skills and information processing techniques. The programme also covers customer service, communication adn the ability to contribute within a workplace team.

We include some literacy and numeracy unit standards within this programme so you have the opportunity to get NCEA Level 1 or 2 if you didn't finish them at school.
Programme Details
We run our classes Monday to Thursday, 9am – 3pm. Our campus at 144-152 Ingestre Street is an easy walk from the bus or there's parking available. Our programme runs for 19 weeks.
Programme Starts - 24 July 2017

Break - 2 October - 13 October
Who can attend?
You must be over 16 years and no longer at school.
You must also be one of the following:
a New Zealand Citizen, or a New Zealand permanent resident currently living in New Zealand
or a Cook Island, Nuie or Tokalau citizen,
or an Austrailian citizen who is currently living in New Zealand, or an Australian permanent resident who has a returning resident visa and is currently living in New Zealand
or a refugee with refugee status who is directed to study as part of residency requirements
AND not have an existing qualification at Level 2 on the National Qualification Framework (NQF)
Please note that you will need to provide a birth certificate or passport as evidence of identity and age on enrolling.
2017 Fees
Fees free (criteria apply). Full fee is $2,727.00
Approved for Studylink student loans and allowances.
What qualifications are offered on the programme?
You have the opportunity of completing the following qualifications through this programme:
New Zealand Certificate in Business: Administration and Technology, Level 3
National Certificate in Education Achievement (NCEA), Level 1 or 2
These qualifications will give you a great base to start your career from, and the skills and knowledge you need to continue study onto a Level 4 programme or a diploma.
What will I learn about?
Over 19 weeks the following topics will be covered:
Customer service
Text processing
Producing written communications
Word processing
Using office equipment

Workplace health and safety

Communication in the workplace
Databases

Time Management
We will also give you some insight into how you learn best. Everyone has their own learning style. If you understand your learning style, you can apply this to all that you do to achieve success!
Graduate description
A graduate of this programme will:
Be able to apply text processing skills to produce business and organisational documents

Have developed communication skills both verbally and written

Be able to create software solutions such as databases and spreadsheets to solve business problems

Understand how to manage and protect computer data

Be able to use office technology and operate business equipment
How we will help with your next steps?
We know what further study is available to you and can help you complete study applications or recommend what courses would be best suited to your career goals.
We will also teach you how to:
Read job advertisements to determine role requirements
Create a covering letter
Create a targeted CV
Undertake job searching using Seek and Trade Me Jobs
Interview with a potential employer
Want more information?
If you need some more information, just call us! We are really happy to talk with you about your study options. If our course is not right for you, we will point you in the direction that can help you achieve your goals.
Our number is free phone 0800 GET T4U or 06 349 0047.
How do I get started?
Contact us today and register your interest for this programme!
Training For You
144-152 Ingestre Street, Whanganui
Free Phone 0800 GET T4U
Local Phone 06 349 0047
Email us info@trainingforyou.co.nz
Private message www.Facebook.com/TrainingForYou